With a degree in Painting from the Academy of Fine Arts in Rome and another in Art History from the University of Rome, Stefania Pinsone is a skilled artist who has developed her own unique style of digital-realistic painting. Using acrylic paints with a fine brush and juxtaposing intense colors with geometric lines,
she is able to reproduce her chosen subject with photographic expertise. She has been strongly influenced by the art of Gerhard Richter, whose paintings celebrate the photographic image with all its shakes and blurs, and she pays similar homage to the digital image with its disturbances such as jpeg effects, glitches, chromatic aberrations, "like," "play," and loading symbols, etc. Reproducing images taken from social media sites, dating websites and mass media, she has created a series of paintings, which are entirely made by hand and one of a kind, and yet they are wholly in dialogue with modern technology.
Work experience
Exclusive Contract with the art gallery, Galleria d'Arte Mascherino, Roma, as a painter 1998-2008
High school teacher in art history and drawing in the private school San Sisto Vecchio, Rome, 2002-2009 and in state schools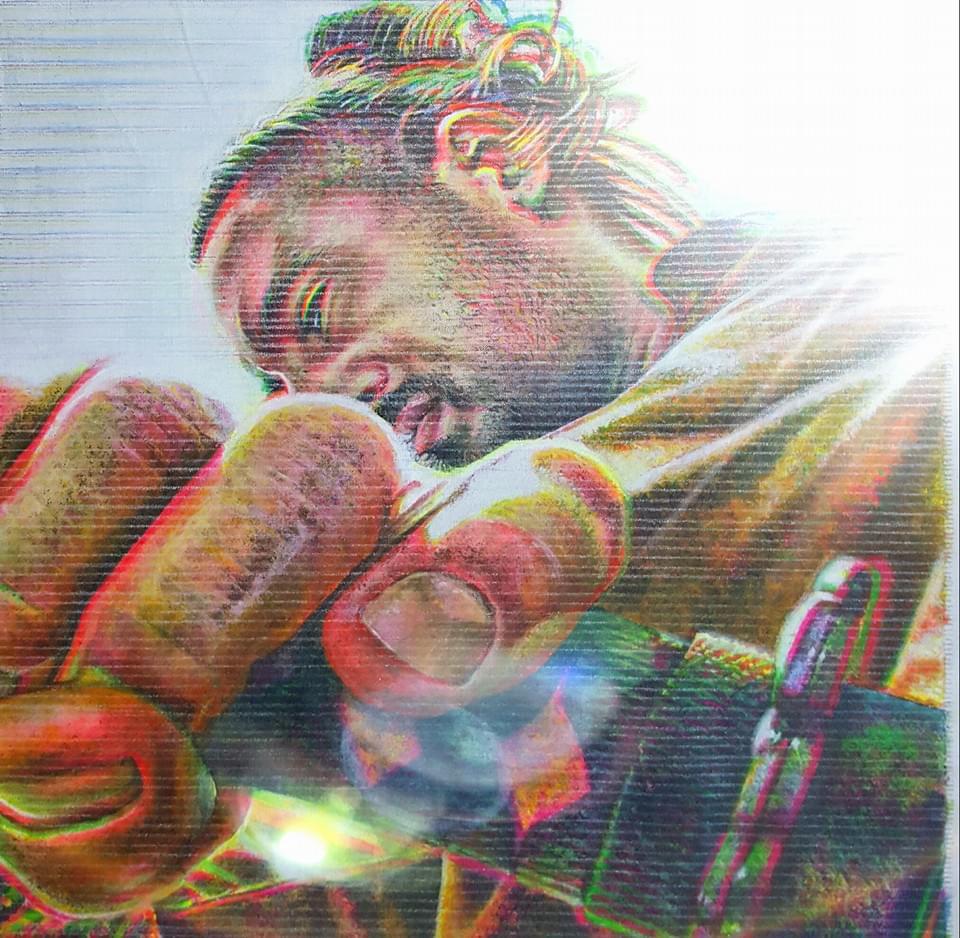 Education
High School: Pedagogical School San Sisto Vecchio, Roma, 1990
Diploma in visual arts. Accademia di Belle Arti di Roma, 1997
Certificate: qualification as a high school teacher in art history and drawing, 2000
University Diploma: Bachelor course in Cultural Services, Università degli Studi di Firenze, 2004
Degree in Art History, with honors, Università degli Studi di Roma Tor Vergata, 2007
Scholarships
Scholarship "ADISU" for the Academy of fine arts awarded top marks, 1997
Study Scholarship at the University of Tor Vergata for the academic years 2005/07
Private teacher in drawing and acrylic painting, Basel, since October 2010
Project collaborator in the project "Vivre Life Vivere" of Université de Genève, 2011-2012.
Work order: double portrait of the client and his wife, December 2014
Memberships
Member of the Swiss Society of Visual Artists
Newcomer at visarte
Publications
Sant'Urbano alla Caffarella: nuove indagini e scoperte, Rivista dell'Istituto Nazionale d'Archeologia e Storia dell'Arte, no. 59, 2010
"Stefania Pinsone", Catalogue for the personal exhibition, curated by G. Marziani, Rome, 1998
"Violence and Perception", Catalogue for the personal exhibition, curated by Dr. B. Reuter, Basel, 2015
Inclusion in the art book: International art today – 2016 curated by Dr. Ingrid Gardill, (May 2016), IKH-Publishing Martina Kolle – www.internationalekunstheute.com
Exhibitions
1998 Personal Exhibition, with catalogue, Galleria d'Arte Mascherino, curated by G. Marziani, Rome
1999 Personal Exhibition. Studio D'Arte Cannaviello, curated by E. Cannaviello, Milano
2000 Collective Exhibition. Galleria Comunale d'Arte Moderna e Contemporanea di Roma, curated by "Mecenate 90"
2001 "Hellzapoppin" collective exhibition. Galleria d'Arte Mascherino, curated by S. Dello Schiavo und A. Gianvenuti, Rome
"Match" collective exhibition. Galleria d'Arte F. Russo, Rome
2002 "Nuovo Quadro Contemporaneo" collective exhibition. Palazzo Cedir, Reggio Calabria
2003 "Blerò" Personal Exhibition. Fondazione Katinca Prini and Contini Gallery, curated by A. Contini, Bardonecchia (IT)
2004 "Collocazioni domestiche: percorsi urbani" collective exhibition. Show Room SMIT, curated by B. Martusciello, Rome
2013 "Sommerausstellung" collective exhibition, Galerie Schöneck, Riehen, Basel
"Selection" collective exhibition, Galerie Schöneck, Riehen, Basel
2014 "Under One Roof" collective exhibition, Gum Gallery, May, Moscow
"Cutlog NY" Art Fair, May, New York
"Frisch Gestrichen" double exhibition, Galerie Eulenspiegel, Aug.-Sept., Basel
"Copenhagen Art Contemporary art fair", September, Copenhagen
2015 "Hiver 15" collective exhibition, Place Suisse des Arts, January, Lausanne
Double exhibition in the art Gallery Haus am Bach, April, Sissach (CH)
"Kölner LISTE" art fair, 15th – 19th April, Cologne
Solo Exhibition with catalogue, Art & Context 101, Art Gallery, curated by Dr. Bernard Reuter, October-November, Basel
"Satellit 15", collective exhibition with SGBK Basel, November, Liestal (CH), in collaboration with "Kultur Nacht Liestal"
Personal Exhibition in the City Hall of the town Lausen (CH), December
2016 "AAF, Affordable Art Fair", with Galerìa Gaudì (exhibition with 4 artworks), 26th – 29th February, Brussels
Representation at Atkinson Collection Gallery, Elmhurst, IL – United States
Personal Exhibition in Centrepoint, Lohnhof, April-July, Basel
LISTE 21 – Art Fair 14-19 Juni 2016 (Art Basel) with Kaskadenkondensator
Representation at Le Dame Art Gallery, June-December 2016, London
2017 Selected artist for Personal Exhibition at Onepeak Hubei Culture Media Co., Ltd., TS1 Gallery,
Hongshan District of Wuhan City, Hubei Province, and Shanghai, China (2017-2018), with the
agency Amalart S.r.l. First exhibition in Wuhan: 10.5-10.6.17.
Artworks featured in "Average Art Magazine", London, in the December 2016, January, February,
March, April and May 2017 issues (Cottage industry Press)
Elected as head of the jury at "Arte Binningen 2017" art fair, Binningen (Basel), Switzerland
Selected artist for EWAAC-Artist in Residence in UK 2017 with final exhibition in London
(Bedford University, 29 July -12 August 2017) and Artlink premium membership (representation in Japan).
Nominated candidate artist for "Ashurst Emerging Artist Prize 2017", London 31/12/16