Swiss/Australian visual artist of contemporary realistic style – "the traumatic objectivity"
Member of Visarte, the National Association of Visual Arts, Switzerland
Exhibition participation:
ART BASEL, CH,
ART FAIR BERLINER LISTE, GER, ARTDESIGN FELDKIRCH, A, ART FAIR SPECTRUM MIAMI, USA, ART REVOLUTION TAIPEI, TWN – Finalist 2018 & 2019, CHAN LIU ART MUSEUM, Taipei, TWN, KETTENSCHMIEDE MUSEUM & KULTURSCHMIEDE, GER, I. BIENNALE PRATTELN, CH, XI. BIENNALE FLORENZ, I, XVII. ART INTERNATIONAL ZURICH, CH, XVIII. ART PALM BEACH, USA, I. RHY ART FAIR BASEL, CH, ARTEXPO NEW YORK, USA, ART FAIR KUNST MESSE FRANKFURT, GER
Solo and group exhibitions in:
Switzerland, Germany, Belgium, Italy, Austria, Turkey, Taiwan & USA
Memberships & Collaborations
Member of the artist group Reflex, Germany
Collaboration with Gallery 11hellheaven, Italy
Collaboration with Gallery  KunstRaumRhein, Switzerland
Collaboration with Wernfried Hübschmann, poet & essayist, GER
Awards:
Finalist Art Revolution Taipei, Taiwan. Nominated for the 2018 & 2019 International Artist Grand Prize of Taipei, TWN – Recommended by Art Consultant Mr. Mickey Huang, TWN
Finalist Circle Foundation of the Arts, Artist of the Year 2019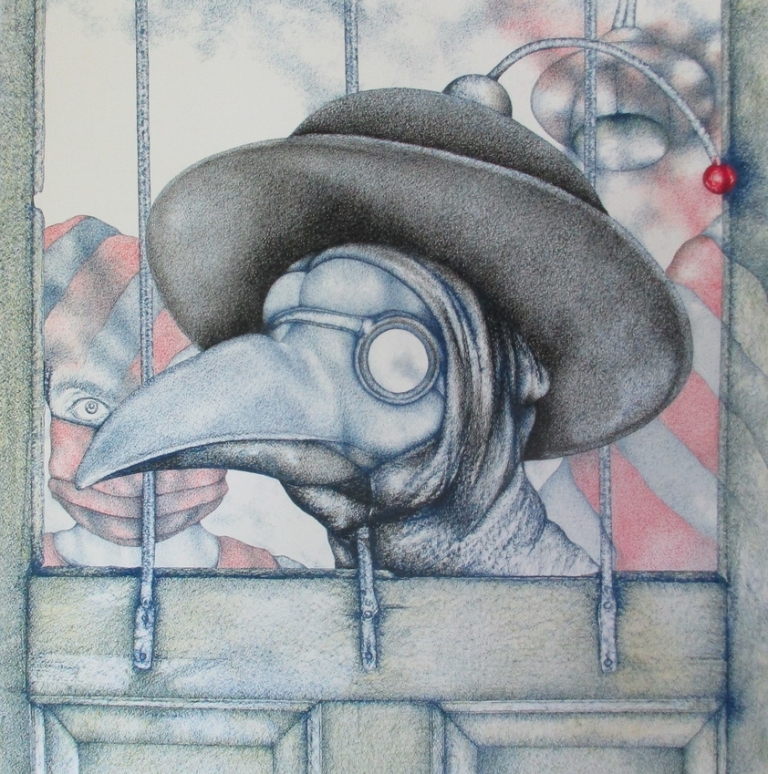 Artistic education:
1965 – 1966 Preliminary Course, School of Design and Art Basel, CH
1966 – 1970 Graphics & Printing Technology, Basel, CH
1970 – 1971 Graphic arts education, Zurich, CH
1971 – 1972 Training Graphic, Cape Town, ZA
1973 – 1974 Basel School of Applied Arts, Basel, CH
1990 – 1991 Art Lesson in Aboriginal Symbols, Dot Painting & Patterning, Sydney, AUS
In the years 1965 to 1986, he maintained numerous contact's with other artists from the Basel art scene, which influenced his early work, including Jean Tinguely (1925-1991) Paris and Basel, Irène Zurkinden, Paris and Basel (1909-1987), Joseph Duvanel, Basel (1933-1993), Fred Spillmann, fashion designer, Paris and Basel (1915-1986) and Kurt Farner, Basel (1932-1977).
Art Lessons by Franz Fedier (1922-2005), German-Swiss painter of abstract painting, radical avant-gardist and head of the painting class at the Basel School of Applied Arts.
Art Lessons by Gustav Stettler, painter (1913-2005) & Andreas His, painter (1928-2011) at the Basel School of Applied Arts.
The artworks of Joey Schmidt-Muller are located in various art collections in Switzerland, Turkey, USA, Germany & Israel. Endress & Hauser art collection, Germany. The Ernesto Schmidt art collection, Switzerland and in the Carl Laszlo art collection in Hungary.
The traumatic objectivity
The Swiss-Australian artist Joey Schmidt-Muller, born in Switzerland, now lives in Germany, where he works as a freelance painter. The focus of his work is on people with their thoughts, fears and feelings.
Cross-border commuters
In his timeless works, Joey Schmidt-Muller depicts his worldview. He does not want to imitate, copy or trivialize. He only simplified his splinters of thought so much to put them together to create a composition of ambiguous statements and messages. Joey Schmidt-Muller describes his style with a traumatic objectivity as a monument. He wants to stimulate, create intimacy and at the same time consciously be a distant border crosser.
Monument
I draw like a painter and paint like a draftsman!
Joey Schmidt-Muller's works deal with immediacy, truth, life and death. His pictures juggle between the intensity of their expression and their aesthetic component. They testify to sensitivity and, at the same time, to a conscious breach of the intimacy limits through drastic and provocative representations. The artist mainly works with oil pastels on paper. By dividing light and dark, light and shadow, he gives the surface a shape and illustrates the temporality with indicated movement.
https://www.joey-schmidt-muller.de/
Vita: https://www.joey-schmidt-muller.de/exhibitions/vita/
Publication: https://www.joey-schmidt-muller.de/exhibitions/publication/
Exhibitions: https://www.joey-schmidt-muller.de/exhibitions/
Face Book: https://www.facebook.com/joe.schmidt.muller
More artworks: https://www.facebook.com/photo.php?fbid=2663416923895437&set=pcb.2663430563894073&type=3&theater
Instagram: https://www.instagram.com/atelierjoeyschmidtmuller/?hl=de
Video: https://www.youtube.com/watch?v=XRAxp2prA-M&feature=youtu.be